If you are a van owner and looking to promote your company, you might be considering investing some budget into some big branded signage to have on display across it. Van signage has become increasingly popular among small to medium-sized enterprises (SMEs), mainly due to the cost-effective advertising that derives from it. We explore what type of signs are popular among our customers and consider the advantages and disadvantages of sign writing vans. You will then be able to weigh up if they would be a good choice for your business.
What kind of van signs are popular?
Gone are the days of spray paint, today's signage boasts many removable options if you ever want to change it or sell the van at a later stage.  The most popular types of signs are:
Cut vinyl van graphics which is the term used to describe "cut out" self-adhesive letters or shaped logo details that are applied to vehicles. A popular choice for van owners as they are reasonably- priced and the adhesive vinyl will preserve the paintwork underneath.
Magnetic van signs are a popular choice for our customers as they are the easiest to put on and remove, making them useful if you rent a van. If you do a lot of motorway driving, make sure you ask for a vehicle-grade magnetic that can cope with the 70mph speed limit.
The advantages of sign writing your van
A low-cost way to market and advertise your business
One of the biggest advantages of getting your van sign written is the amount of low-cost advertising you will generate.  Hundreds, possibly thousands of people will see your van driving around town every day with your business name, logo and contact details clearly visible.  Van signage is a powerful marketing tool – all those people seeing your van everyday could add up to a lot of potential customers.
Let's say your van signage cost £350 and that you keep it for a year.  That works out as less than a pound per day.  Plus, it is well targeted advertising as it will mostly be people in your local area who see it.
It reinforces trust in your business
Sign-written vans help reinforce your brand and will reflect the professional nature of your business.  This will help customers to form a trustworthy opinion of your company and allow them to see that you take pride in what you do. While we are on the topic of trust, displaying your company achievements on your van will help with this no-end.  Are you a member of Checkatrade or similar organisations?  Well, this is the perfect way to display them for all to see.
It could reduce your premium
Some insurance companies may lower the cost of your premium due to signwriting on your van.  Similar to the element of trust that customers will experience when seeing your sign, your insurer may also be assured that your investment in sign writing is an indication that you are a reputable company and therefore more likely to look after your vehicle and drive sensibly.  Advertising who you are for all to see suggests that you will be less inclined to be an unruly driver – lowering the risk of an accident.   Some insurers may also believe that an easily identifiable van makes it less of a target to thieves.
The disadvantages of sign writing your van
Insurer concerns
As we have already discussed, some insurance companies will view sign writing with a glass half full approach.  The flip side to this, is that the glass half empty insurers may take a completely different stance.  Technically, signwriting would class your van as a modified vehicle and because modified vehicles can prove more expensive to repair, it could increase your premium with some insurers.  Do not be tempted to withhold the fact you have sign writing on your van either, as your insurer could cancel your policy.  A little legwork on comparison websites is all you need to ensure you find an insurance company that will not make you pay extra for having a sign-written van.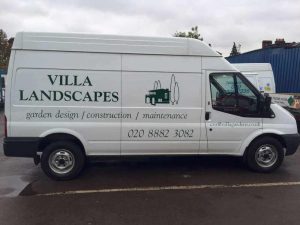 Would it be more of a target for thieves?
It could be argued that advertising your company on your van can make your vehicle and its contents more desirable to thieves, particularly if your line of business requires expensive equipment or tools.  However, thieves tend to be ruthless and opportunistic, so it is doubtful that a sign-written van would be singled out.
Our top tips for sign writing your van:
Less is more. Try not to over complicate your sign.  When you pass a potential customer at 40mph they will only have a couple of seconds to absorb what they have seen.  So, keep it simple and concise with minimal text.  The main things that need to be on display are:
Your name / logo
What you do
How to contact you
As we mentioned earlier, you may also want to showcase your achievements (if you have a lot, just pick the most prominent – stay clear of lists!). Try not to bullet point all your companies features and services on one side of the vehicle.  People could likely miss the key features (like a phone number or website).
Colours are important, make sure the colours you choose do not clash with the colour of your van, for example blue letters on a silver van do not work well.
So, there you have it.  Generally, sign written vans are a great way to advertise your business.  For a small outlay you could potentially reap a fantastic return.  Keep things simple though, you want the most important information to stand out.  You may have to do a little bit of comparison research to find an insurer that will not punish you for your van signage, but all in all it is a great way to get your business noticed locally.  Don't hesitate to contact us if you have any questions, or if you would like to enquire about van hire.  We'd love to hear from you.