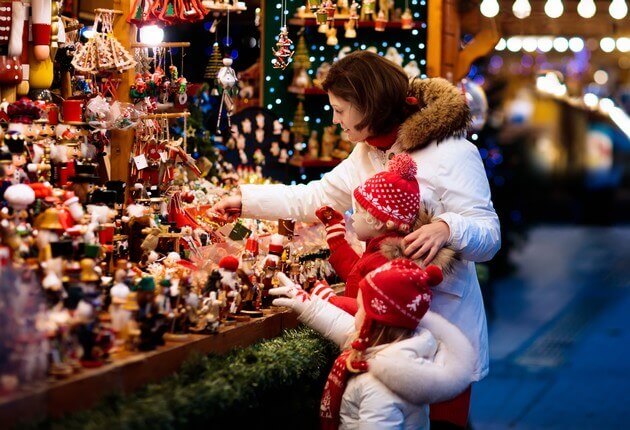 Looking for places to visit this Christmas? There are lots of exciting attractions on offer, from Hyde Park's spectacular Winter Wonderland to ice skating rinks and Christmas markets. You could even consider a short trip to Europe!
Winter Wonderland
Hyde Park's annual Winter Wonderland is promising to be spectacular this year. They've got loads of amazing new attractions including the world's tallest transportable Observation Wheel, a new 'A Christmas Carol' theme at the Magical Ice Kingdom, Paddington™ on Ice and Mr. Men & Little Miss.
There's also a selection of top comics performing at the Winter Wonderland Comedy Club and a brand new restaurant, Cedar & Spruce Bar + Kitchen. That's not forgetting old favourites including the open-air ice rink, Bar Ice, and the Circus MegaDome.
Ice Skating Rinks
This Christmas, London will be hosting some stunning outdoor ice rinks to give you that unforgettable winter experience:
Christmas Markets
Indulge in some festive foody treats and browse the stalls for presents, stocking fillers and more at some of London's vibrant Christmas markets:
Christmas in Europe
Why not take a trip further afield to get your festive fix this year? Celebrate Christmas in Europe and treat yourself to idyllic historical architecture, magical festive fairs, and enticing winter scents. These are Europe's most Christmas-perfect cities:
Prague, Czech Republic: Looking like a Gothic fairytale, Prague is full of glam and grandeur. Stroll past beautifully decorated wooden huts jam-packed with festive delights and warm up with a hot mug of mulled wine.
Vienna, Austria: Unsurpassed in grace and elegance, Vienna boasts charming Christmas markets, a vibrant café culture, and an unmistakable old-world charm. Enjoy a freshly baked pastry, then attend one of their legendary Christmas concerts.
Wroclaw, Poland: Wroclaw seduces visitors with a wonderful Christmas market that goes back to the 16th century. Explore a city rich with history, combining a youthful energy with stunning architecture and fascinating culture.
Copenhagen, Denmark: Copenhagen offers you sparkling lights and their unique 'hyggelige cafés', which combine innovative design with traditional Danish coziness. The city boasts the second oldest amusement park on earth and a spectacular waterfront.
Thinking of planning a big trip this Christmas? You'll probably need some help with transport. Why not hire a CVS minibus from us at CVS Van Hire?  Just call our friendly team on 020 8003 2785.